Healthy Air 500
The HA500 is a smart commercial air purifier that provides constant protection and continually provides healthy air.
Product Code: HA500-1
£959.99 inc VAT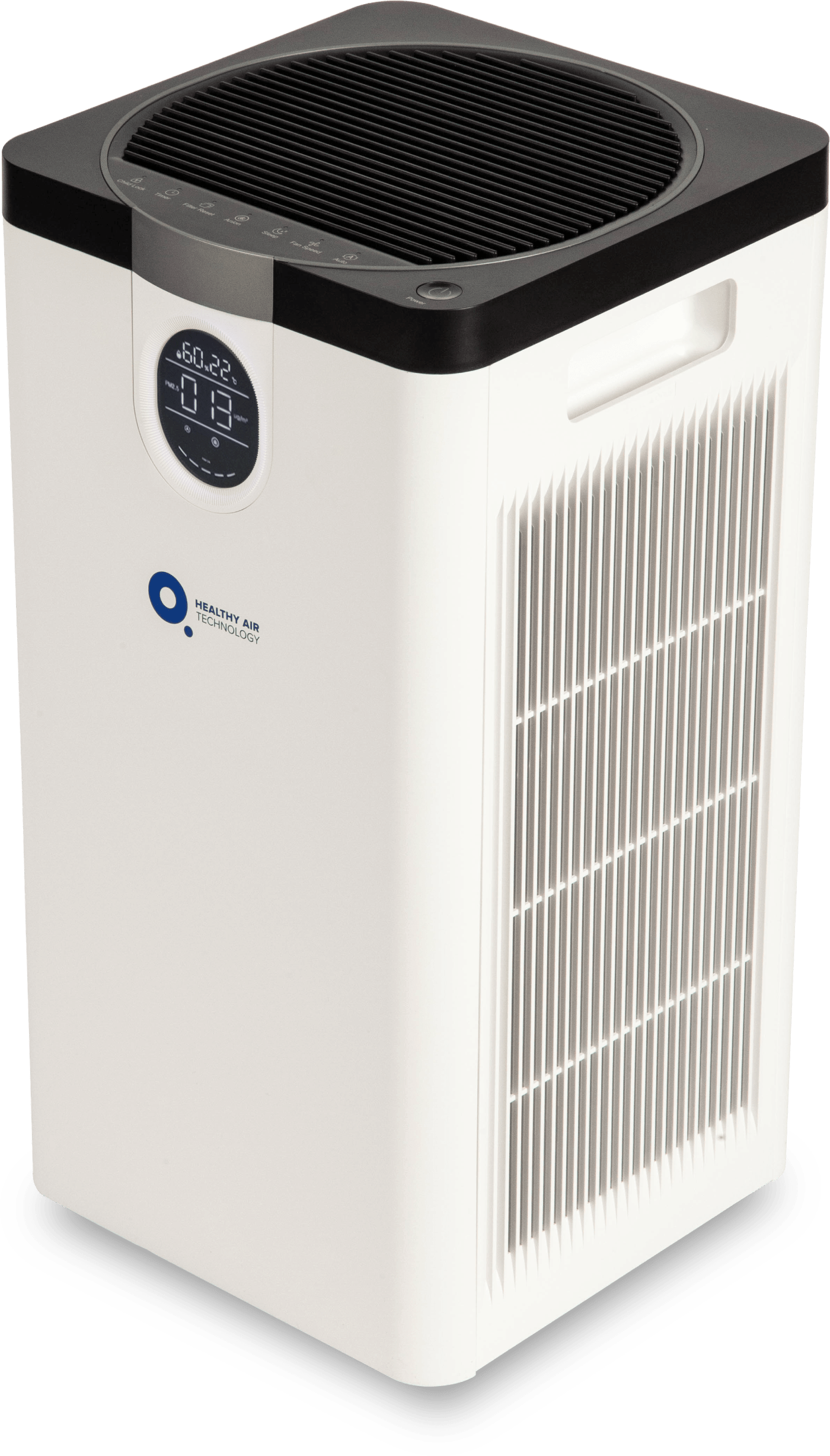 Specifications
Size:
290mm X 290mm X 560mm
Power:
45W at maximum speed
Filter:
HEPA H13 + 'DNO' filter
Noise:
< 63dB(A), 34 dB(A) sleep mode
Air quality display:
LED digital display
Sensor:
pm2.5 laser sensor
Description
The HA500 is a smart domestic air purifier that provides constant protection and continually provides healthy air. It combines industry standard technologies alongside our unique DNO-cleaning solution to ensure the highest quality air. It's been designed to be the most quiet and energy-efficient air purifier available for the home and office, being sustainable and easy to install.
Purification Technology – The HA500 combines our patented DNO Technology with industry standard HEPA-13 filters to ensure your air is completely purified. It is certified to have a 99.9% effective killing rate against a variety of bacteria and viruses including coronaviruses.
Energy Efficient / Cheap – The HA500 has a level 10 energy efficiency ratio: Operating at 220V/110V, 50Hz/60Hz, it is the greenest choice available for cleaning your air. It has an inbuilt-filter effectiveness detector, informing you when you require a new one.
Noise – Almost silent at Speed 1 (where it will spend most of its time), the loudest it reaches is 64dBA, which is the quietest for its CADR. (Clean Air Delivery Rate).
Smart Air Delivery System – Using the same technology developed for F1 cars, the HA500 calculates air flow patterns to make sure the entire room is filtrated, ensuring there are no "dead spots" without clean air. Furthermore, its fan velocity carefully drags air along the ground so won't feel any change in pressure or temperature.
Portable – Weighing on 10.8KG the HA500 is lightweight and can easily be put in the boot of a car, or carried in a large bag, making it easy to transport or to pick up and bring around the house.
Plug-and-Play – The HA500 fits into any existing ventilation or heating systems, only requiring a source of power and a small amount of uncluttered space around it to operate at maximum efficiency.
Certification:
The HA500 is certified to have a 99% removal rate again the following bacteria and viruses:
H1N1, Staphylococcus albicans, Escherichia coli, Coronavirus 229-E
The HA500 is certified to have a 99% removal rate again the following substances:
Ozone, Nitrogen dioxide, Sulfur dioxide, Formaldehyde CADR, Particulate CADR, TVOC
Purification Perfected
Patent
High Efficient DNO Pollution Eraser Air Cleansing Technology